You would expect that when there is a "special price" sign on the shelf it is the best deal going on, and that is cheaper to buy in bulk.
Shop management use all manner of deceptions to capture our attention and extract more of our money from us, some of which are prohibited in places where consumer protection is taken seriously.
A simple one to start off with, 2 for slightly more than the price of 1: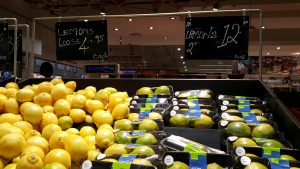 Now we can move on to SUPER SAVER offers on Mr Min furniture polish:
Spar Long Life Milk where the shelf-stackers unpack cases of 6 so they can be sold for less than the packed version. And that "Manager's Special – SPECIAL PRICE TO YOU" has never been seen in a store, it exists only in some accountant's addled brain. I complained about this somewhere, maybe their Facebook page, and was told that is the price it should be sold at.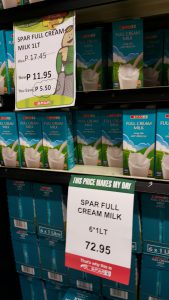 How about Tastic rice? The price per unit mass is slightly less if you buy the smaller packet, and once again a product is being advertised as having a price reduction from a price that has never been seen on the shelves.
Then we have straight forward catch-the-eye diversion where the "Low prices for you" flag is at eye level offering 2kg of OMO Auto washing powder for P35.95. Meanwhile down at foot level (so low my phone couldn't even get it in focus) are the 3kg packets for about P45 each.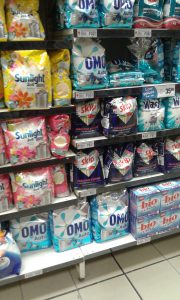 One that seems to change every second or third time it appears on my shopping list is the Nature's Source Crunch for my muesli, sometimes the 1kg is cheaper per kg than the 750g packet. The benefit of this is that using the smaller packet gives a higher raisin:oat ratio, leading to the sensation of you muesli being more opulent for a while.
Today's Lesson:
Always divide the price by the quantity and see which size packet gives the least cost per quantity. Doing this with your children (or partner) is good because it encourages them to think things through and not just buy blindly.
The pictures in this post so far are exclusively Spar, because that's where I do most of my shopping (best selection and convenience, but I keep my eyes open and maths gland working). Pick n Pay at least are more transparent as their shelf labels normally have a "price per quantity" annotation under the main price.
The most odious habit of all:
Finally, the most odious of habits by South African retail chains operating in Botswana: charging us the same amount in Botswana Pula as they sell in Rands in South African stores (exchange rate is typically between ZAR1.20-1.30 to the BWP – so instant 20%-30% markup):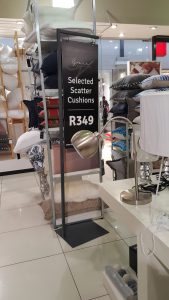 Our president has announced that he wants this practice to stop and that perpetrators must be penalised, but it doesn't seem to happen. The only concession is that companies no longer preface the amount with a letter so R169.00 becomes 169.00, or some poor staff member scrapes off the leg of the R.