There's a story in today's Mmegi (online, at least – I haven't seen a paper edition) about discussions between the Botswana Chamber of Mines (a NGO representing various mining operations in the country) and City of Francistown Council about the possibility of disposing of chemical waste at Francistown landfill (aka Dumela Landfill as it is at the Dumela industrial area).
Chamber of Mines to utilise F/town landfill

FRANCISTOWN:Botswana Chamber of Mines (BCM) has indicated that plans are underway to use the Francistown City Council (FCC) Dumela landfill to dispose of chemicals used by its members.
The motivation for this is that the mines generate a variety of hazardous waste that is difficult to dispose of as there are few properly constructed landfill sites in Botswana.
From what I know Francistown landfill site is properly constructed: it has stormwater containment ponds, impermeable linings under the waste cells, incineration facilities and so on.
The concern is how well it is being managed.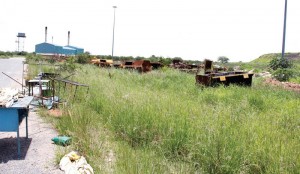 Once every couple of months I take our household rubbish there (story for another day), and for the last year or so neither weighbridge has been working, and for a few months the trash compactor was broken down on the side of one of the internal roads.
Google Earth imagery indicates that there is huge expanse of waste that is not yet covered with soil.
There is also a thriving recycling trade going on (A Good Thing) with people collecting cardboard, tins, etc., what's going to happen to the cyanide impregnated shipping crates, the empty caustic soda drums and other nastiness?  That dog kennel or water drum you buy from a guy at the side of the road might have unintended consequences.
Botswana's mining companies have a responsibility to dispose of their waste responsibly and in accordance with international best practice, so it is excellent news that they are working together through the Chamber of Mines to establish a economically and environmentally sustainable solutions.  What all parties must ensure is that the necessary controls are in place to operate the landfill safely, if City of Francistown Council are smart about it this could be a solid revenue stream for them.
Declaration: I work for a company that has recently installed an acid neutralising plant for a major player in the industry and we are currently in the process of establishing a chain of responsibility to dispose of the neutralised (but still toxic) effluent at a licensed facility in South Africa.